Dev-Aura音樂記事(1) Dev-Aura Chronicles
by James Asher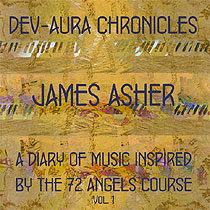 靈感來自於72天使課程的音樂創作記錄。

A Diary of Music Inspired by the 72 Angels Course Vol.1.
The nature of the 72 Angles course combined with the engaging qualities of those people attending it created a scintillating ambience, within which these new light filled compositions flowed effortlessly. Written in the morning before the teachings of the day began, the music become imbued with the focused spiritual intent of the people attending attuning in their own way to what lay ahead. These inspirational pieces of music were recorded live into a keyboard at the time, and then the data transcribed at a later stage in the studio, where the original information was expanded by an additional range of sounds and virtual instruments.
The resulting music has an ethereal expansive quality, providing an ideal accompaniment to the following:- Yoga, relaxation and meditation, massage, healing, attuning to your personal colours for the day or just chilling out at the end of the day.

曲目:
1. On the First Rays

20.21
3. Glowing Gossamer 06.57