卡巴拉72天使吟唱(1) Song and Chants
卡巴拉72天使課程吟唱錄音,2010年2月在英國。附說明歌詞(英文)。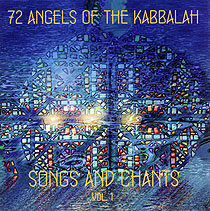 This recording, spanning two CDs features songs recorded live in February 2010 at the Dev Aura Residential Training Academy in Lincolnshire, UK, during the courses entitled "72 Angels of the Kabbalah and Aura-Soma".
The collective singing by the 80 course participants from around the world has a stirring and heart-warming quality.
Volume 1
contains songs and mantras from a variety of spiritual traditions and cultures. For your singing enjoyment, a booklet containing song lyrics is included with this CD.
Volume 2
contains chants and invocations from the Hebraic tradition, with an accompanying booklet.
Participants meet their personal guardian, heart and intellect angels through the invocation of their Hebrew names and radiant colours of the Aura-Soma Equilibrium bottles.
The songs and chants on these CDs are used during the courses to invoke the light and to greet the angels. For many this becomes not only an illuminating experience, but a transformational one also.
曲目:
3. Come, Come Whoever You Are

(1.32)
4. Allah, Allah, Allah

(1.13)
5. Om Namah Shivaya

(1.42)
9. Estarse Amando Al Amado

(1.30)
10. Altisimo Corazon

(1.09)
11. Da Pacem Domine

(2.39)
15. He Bhawani He Kalyani

(1.17)
16. Let My Heart Reflect Thy Light Lord

(1.49)
18. Ivdu Hashem Besimcha

(1.33)
19. Shiva, Shiva, Mahadeva

(0.56)
20. Ana El Na Repha Na La

(2.52)
21. Abwun de Bashamaja

(3.47)
23. Jai Mata Kali Jai Mata Durge

(2.08)
26. Evenu Shalom Alecheim

(1.00)
27. Ganesha Sharanam

(2.11)
28. Dai, Dai, Reprise

(2.29)
Total Time 49:33